Shaina and Yash
Despite attending the same university, they didn't communicate until their sophomore year. And ultimately, after leading the girl at the University of Florida on a treasure hunt through her residence, the boy took her to her favorite DNA Bridge and proposed to her. In August 2014, Yash Patel and Shaina Panchal began dating in this manner. Shaina and Yash dated for seven long years before Yash unexpectedly proposed. He created a mini-scavenger hunt with seven clues and conducted it throughout their same old Gainesville. Finally, Yash was waiting to pop the question to Shaina at the same DNA Bridge. Shaina accepted this unconventional proposal with awe and surprise.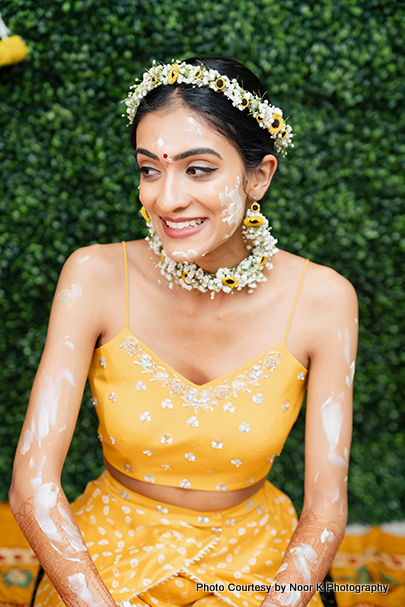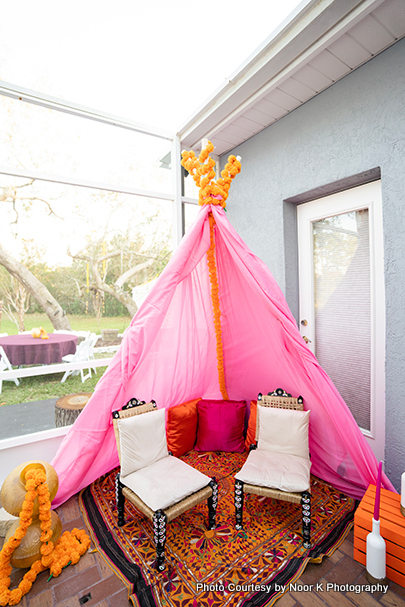 The couple's special day was then selected. Their nine-year friendship reached a new height on February 4, 2023. They finally settled on the Hilton Oceanfront Resort in Daytona Beach, where Shaina was born and raised, after much deliberation and venue scouting. Even though Shaina hired a wedding planner, Shaina's sister created beautiful décor, DIY projects, and themes. Shaina's parents' house hosted the celebrations for Mehndi and Grah Shanti. Her sister gave the ideal 'desi' touch to the pink and orange color scheme for the mehndi by giving it a dash of 'desi' flair. Yellow and white were the predominant colors at Grah Shanti/Pithi, and the loving sister created Ganesh using yellow marigolds.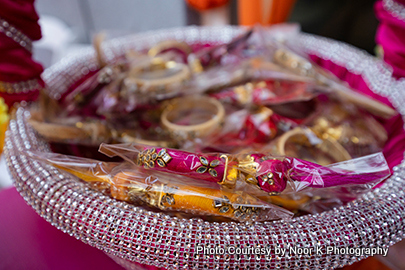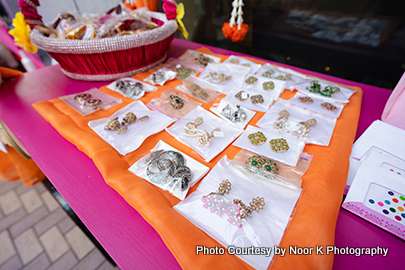 ---
BANQUET HALLS Hilton Daytona Beach 386-947-8012 | BEAUTICIANS Beauty Marked 813-445-6485 | CATERING Khasiyat Indian Restaurant 407-252-8756 | Saffron Indian Cuisine- Orlando 407-674-8899 | DECORATOR NJP Events & Design 321-474-4078 | DISC JOCKEY Awaaz Entertainment 407-902-9639 | EVENT PLANNER Big Guava Events 571-241-4405 | FLORIST Garlands By Kirti 321-213-8008 | MEHNDI Henna Allure 321-444-5911 | PHOTOGRAPHER/VIDEOGRAPHY Noor K Photography 407-729-0388 | PRIEST Mahesh Gor 321-297-6167
---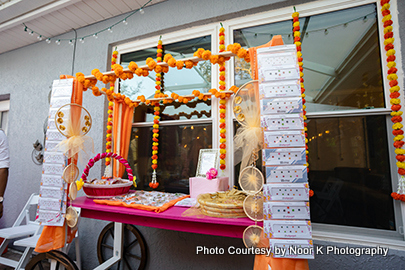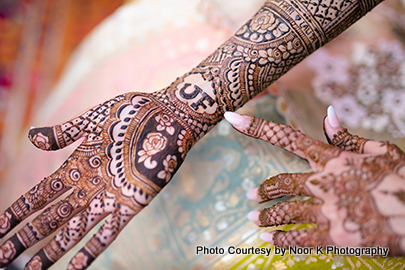 The traditional "Garba" dance and music featured the subject of Radha Krishna in the forest, complete with lush vegetation and an enchanted forest atmosphere. The ceremony took place early in the morning indoors. The delicate shades of pink and white dominated the entire space. The distinction was that the bride also had a baraat in addition to the groom. Golf carts were used to start each of their journeys, which eventually met. Mostly enjoyable music During the wedding ceremony, Bollywood Hindi music and traditional Gujarati folk music were played, along with some Punjabi and hip-hop. The evening of the same day saw the reception. With white floral centerpieces, white candles, a white dance floor, and white lamps all over, this special occasion had the ideal motif of white. "All of the Lights" was playing when the pair walked in. She also produced dance routines, a sister-performed skit on the couple's love story, and a surprise film including the couple's parents. Hip-hop and Bollywood Hindi music made up the majority of the reception's music selection. The couple's inventive and original idea was to use personalized touches to include all 465 guests in their love story and wonderful journey. During the wedding rites, they offered their preferred pancakes and iced coffee to the guests. Their beloved dog Bella was honored in a special way in their house specialty cocktail, Bella, which was a vibrant blue drink inspired by Bella's blue eyes. The pair wanted to share the happiness of their nine-year love story with everyone in attendance as they celebrated their big day with everyone's well wishes and blessings. May they be blessed and remain in each other's hearts forever.