Sheena and Aalok
Dentist Sheena met sports medicine fellow Aalok at lunch with a buddy they both had. Aalok texted Sheena, and for five years they commuted between Fort Lauderdale, Boston, and New York City while dating long-distance. Aalok leased out a rooftop in New York City and invited both families for the proposal. He made his marriage proposal as Ed Sheeran's song "Perfect" was playing. They chose to engage a wedding planner to cover all the bases so that their families could relax and enjoy the wedding ceremony. They chose the Marriott Water Street in Tampa for their wedding despite considering more than 15 potential locations.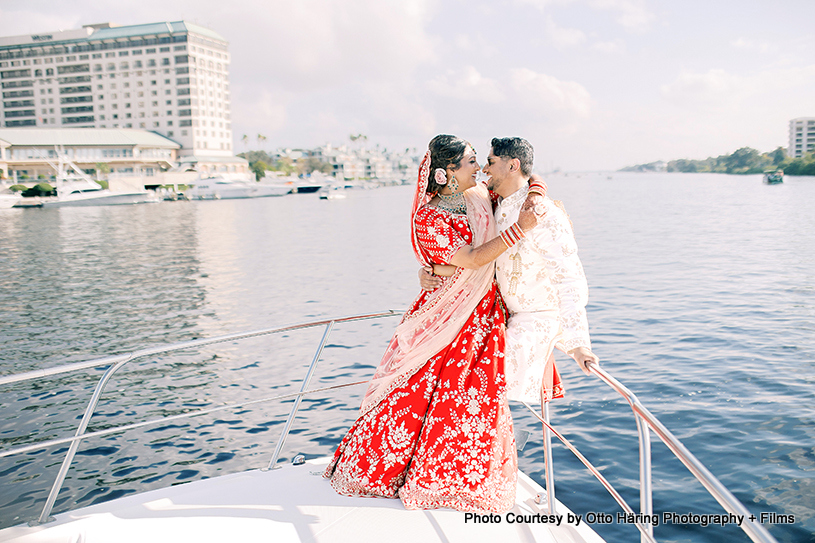 ---
BANQUET HALLS Tampa Marriott Water Street 813-221-4900 | BEAUTICIANS Michele Renee The Studio and Salon 813-531-7770 | CATERING Saffron Indian Cuisine-Orlando 407-674-8899 | DECORATOR Suhaag Garden 772-528-0394 | DISC JOCKEY Awaaz Entertainment 407-902-9639 | EVENT PLANNER Apsara Events 727-687-8185 | HORSE CARRIAGE Wind Chase Farm 772-285-3480 | MEHNDI Henna Allure 321-444-5911 | |PHOTOGRAPHER / VIDEOGRAPHY Otto & Priscilla Haring 786-444-9743 | PRIEST Pandit Manikya Sharma 813-484-9568
---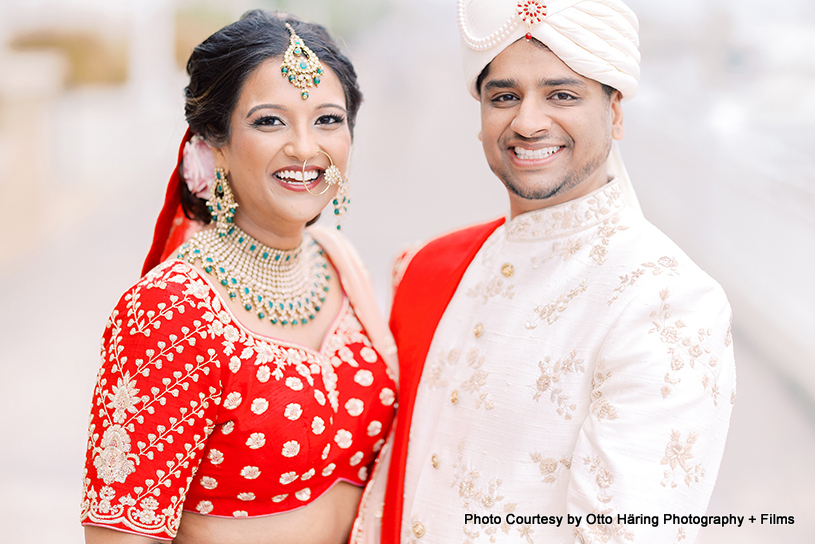 Before their sangeet, the couple decided on a private combined haldi and mehndi. They enjoyed spending time with their closest friends and family at each pre-wedding event, which had a different flavor. In order to symbolize the beginning of a new life together, the decor and attire for the haldi ceremony were clearly yellow. The mehndi was done in green and yellow, and the decorations were based on marigolds. While their wedding was held inside in the main ballroom, the baraat was held on the riverwalk. Since they met in brilliant, colorful Miami, the colors were intense and strongly centered on florals. The visitors were welcomed with a silk shawl and a golden bell to ring when Sheena entered the mandap, which was embellished with red, purple, pink, and white flowers along a green canopy laced with hanging lights. An amalgam of Indian and American music, but the dhol musician set the mood by giving each song a distinctive traditional pace. Their napkins and gift bags, which were personalized with their initials, added a special touch to their wedding. Sheena's family presented each visitor with a silk shawl as well as personalized candles as gifts for their mehndi. They also left the location aboard a yacht after their wedding, which was another unusual feature.