Sonya weds Vikram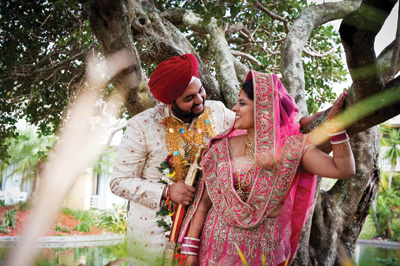 Sonya Rane and Vikram Saini's lovely wedding brought together two cultures and culminated in a dream-come-true celebration for the bride and groom. The couple met at the University of Florida when Sonya was completing her Master's Degree in Physical Assistant Studies. Vikram was studying for a Master's in Health Administration. The two connected when they spent time together at the National College Football Championship game in Miami, Florida.
After three years of dating and a few failed attempts to create the right setting, Vikram finally found the perfect moment to propose. Standing waist deep in the sea at St. Pete Beach in Florida with Sonya by his side, he extracted the ring from his pocket. He never had to say a word because she, although stunned, recovery quickly enough to punch him, then hug and kiss him before saying yes. Given he was waist deep in water, Vikram did not go down on one knee; rather he wanted to look straight into her eyes when he proposed.
The engagement ceremony took place shortly afterwards when Sonya's maternal uncle and aunt visited from India. Being from two different cultures, Sonya, Vikram, and both families had to sort out the wedding rituals. The couple was determined to please both the families, so in the end, they decided to have two wedding ceremonies on March 9, 2013, one according to Sikh traditions and the other according to Hindu traditions.
Unfortunately amidst enthu-siastic preparations, Vikram's grandmother died in December 2012 putting wedding planning on hold for a bit. Since Sonya had been meeting with vendors beginning in September, much of the groundwork was already laid.
Vikram's sangeet, which included 175 attendees, was held at the Knights of Columbus Hall in Cocoa, Florida. The venue, decorated by close friends, was done in traditional Punjabi and Indian elements such as Candle Bars, flame less candles, rose petals, simple
white and maroon table cloths, red up lights and small halogen lights to create a warm ambiance. Food was catered by The New Indian Punjabi Restaurant and comprised of typical Punjabi fare.
The Mahia ceremony was held in a rented tent erected adjacent to the Saini family home in Melbourne, Florida. The tent was done in multicolored LED rope lights. Tables were decorated similar to the sangeet ceremony. A continuously burning fire pit kept the venue warm and spread a lovely golden halo in the venue. Being typical Punjabis, the groom's party chose bhangra music to set a festive tone.
Sonya chose a relaxed ceremony at home surrounded by her close friends and family because she knew she would never get enough time to bond with her family once the wedding ceremony and rituals began. Rangoli Sweets catered the food, and the venue came alive with ghoomer, bhangra and dandia ras. Flowers and lights decorated the house in typical Indian wedding fashion. Flavors of India were everywhere, from the lights floating in the pool to the heavenly aromas of food.
The wedding was a beautiful mix of cultures. Vikram arrived for the wedding on a traditionally decorated recreational vehicle. At the Magnolia Enterprise & Magnolia Corporate Center, the sera ceremony took place. From here, Vikram rode to the wedding venue on a decorated elephant, accompanied by four of his uncles mounted on horses. Sonya arrived in a limousine with her family.
For the Sikh wedding ceremony, they chose the Sikh Society of Central Florida as the venue due to Vikram's association since its inception. The Hindu wedding took place at the Wyndham Orlando Resort as it was recommended by friends and had great architecture.
The Sikh Society of Central Florida was decorated in white floor linen and pink fabric for the Guru Granth Sahib. Pink was found in varying shades everywhere in the ceremony, from the bridal costume to the clothes of her family. The male members wore rainbow saffas. Vikram was dressed in an off-white shiwani suit accentuated with gold brocade specially procured from Jaipur. He accessorized his ensemble with maroon turban and red scabbard sword.
After the Sikh wedding, the party proceeded to the Wyndham Orlando Resort for the Hindu wedding. The venue, decorated by Remmal of Occasions by Shangri-La, featured a traditional pink and gold mandap. Sonya and her brother Rishi, both lovers of classic music, found a string of quartet to play two movements from Vivaldi's Four Seasons.
Sonya and Vikram wore the same clothes for both wedding ceremonies. The classy wedding programs, designed by Vikram, outlined the importance of rituals of both ceremonies and included a ceremony schedule. Music was a highlight of the ceremony. Granthi's performed traditional Sikh music for the Sikh ceremony and Music Remembrance performed classical music for the Hindu ceremony.
The reception venue, decorated in a contemporary style with clean lines and dramatic lighting, had glass vases of alternating heights as centerpieces. The vases, filled with water and orchids, were lit at the bottom. Up lighting was used to bring color into the room and patterned projections were used to bring texture to the roof. Highlights were provided over the cake and cupcake table. White table linens were accentuated with colored ribbons and accessories, making them simple and elegant. Part of the mandap was used as a backdrop for the reception stage and projection screens were put up on either sides of the hall.
Rang Entertainment provided music for the reception. Spinning Canvas dance troupe performed a lovely group dance. The program included four dance performances and a couple of duet songs. Sonya's brother Rishi and Ms. Charity Farris, both professional performers, sang "Come What May" from Moulin Rouge. Next, Rishi and his friend Christian Schweibler sang L-o-v-e by Frank Sinatra.
The couple maintains that to-be-weds need to be calm, keep smiling, listen to everybody, but finally do what their heart tells them to do.
Vendor Comments
We had a wonderful time designing with Sonya. She came to us with a very specific vision for her event. Together we were able to create a very clean and modern space for her reception using white linens and simple yet elegant centerpieces.
Occasions By Shangri-la Remmal Karamsadkar Orlando
Vik and Sonya are a wonderful caring couple, we worked together to create cupcakes that everyone would enjoy, while reflecting their heritage, background and personal tastes. We balanced Indian flavors like cardamom, with traditional flavors like chocolate. We also customized purple velvet cupcakes to blend with colors of their wedding.
Laura Maddrey Cupping Cakes, Tampa
Sonya and Vikram's wedding is definitely one for the books – with 1 elephant and 4 horses for the Baraat, 2 ceremonies, a cocktail hour and reception with over 650 guests and 17 vendors, Eventfully Yours was hired to ensure every-thing would run smoothly and on time for this very special day!
Tracy L. Marini Eventfully Yours Orlando
"This was one of the largest weddings we have been able to take part in. We were proud to bring our experienced horses and authentic Indian costuming."
Downtown Horse And Carriage Melbourne