Tarjani T and Thomas T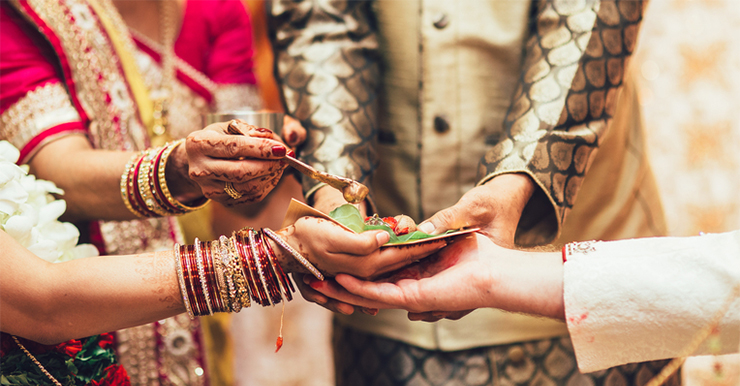 We have been waiting eagerly to post the pictures from Tarjani and Tom's spellbinding Indian fusion wedding at Easton, Pennsylvania. As wedding photojournalists we absolutely love to immerse ourselves in the culture and traditions of weddings; so fusion weddings mean double the fun! Tom is of Polish Catholic descent while Tarjani is of Indian descent. Many of the marriage traditions from both cultures were incorporated into their wedding weekend, creating a truly memorable union that reflected their roots.Day 1 was all about Indian traditional wedding celebrations, from the Pujas in the morning to the Bollywood inspired dancing at night.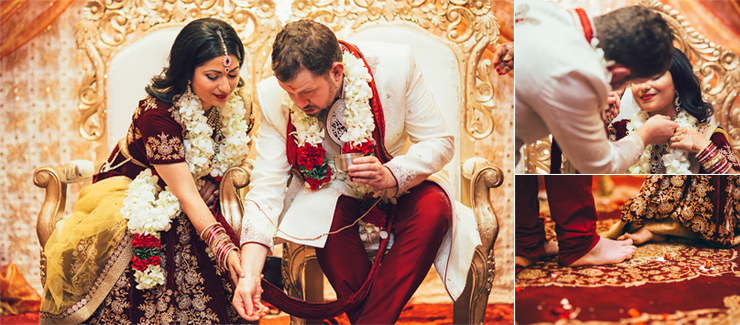 And there were colors; vivid, bright and beaming colors everywhere! That's one aspect of South Asian weddings that we're in love with- they always seem like celebration of colors! The day started at the Thaker house. We've always insisted that we document the celebrations at home; because, to us, that felt like an integral part of the wedding celebrations. We didn't want to miss out on the opportunity to document some truly candid moments that brought the Thaker family together from Florida to UK! After the truly family oriented, and intimate celebrations in the morning, the party moved to The Eastonian– for the wedding and reception. Tom was already there, eagerly waiting for his bride to be. He might have been a bit nervous when we met him, but he had no reason to be. He had mastered some epic dance moves for the party to follow! The wedding ceremony kept us smiling the whole time, and hopefully the photos here will do justice to the beautiful wedding that took place that day.While Day 1 was all about traditional Indian wedding celebrations, the catholic wedding on day 2 was the perfect second half of a truly beautiful fusion wedding weekend. Many of the Polish traditions, from pre-wedding blessings to the salt and the bread, were incorporated. After the first look at the Eastonian, we moved to the St. Anthony's Church. The church was absolutely gorgeous, and to go with it was the beautiful hymn. After the ceremony, went to downtown Easton for some couple shots. Out came the strobes and light modifiers! As always, we love playing with and mixing ambient and manufactured light. The shots from this session are also some of our personal favorites from the wedding day, as they capture the romantic dynamic of Tarjnai and Tom! From downtown Easton (and getting a much needed cup of coffee), we went to the beautiful Riverview Country Club for some more couple shots. The golf card ride in country clubs is always an adventure in itself. After the couple shoot and dinner, it was party time!
Photographer:
 KetaNuva Photography
Reception Venue:
Riverview Golf & Country Club, Inc.