Twinkle weds Jeegar
Jeeger proposed to Twinkle at the The John F. Kennedy Center for the Performing Arts in DC! Jeeger had his pithi ceremony in Columbus, OH – a wonderful celebration of cleansing, love and happiness!
Twinkle & Jeegar's wedding was at the BAPS Shri Swaminarayan Mandir in Atlanta. The place holds a very special place for Twinkle. This beautiful temple assembled like a 3-D puzzle was built in 17 months with 1.3 million volunteer hours. As one of the volunteers, Twinkle took part in smoothing out the intricate stone carvings.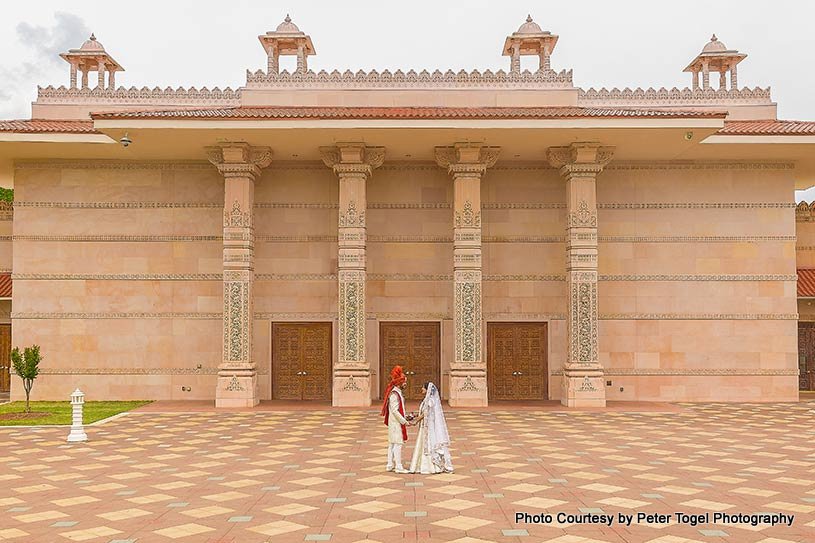 Venue: BAPS Shri Swaminarayan Mandir in Atlanta | Wedding Planner: Crimson Bleu Events | Ceremony Officiant: Yogendra Jani | Make-up Artist: Dina Marie Makeup | Florist: Purnima Patel, Abhilasha Events | Videography: Gustavo Romero Films | Catering Company: BAPS Shayona | Bakery: Zehra's Cupcakery | Music: Jashn, JashnATL | Jeweler: Gehena Jewellary – Iselin, NJ | Bridal Gown and Bridesmaids' Dresses: Nazranaa | Groom's Suit and Groomsmen's Attire: Nazranaa | Invitations, Stationery: Avasar – Ahmedabad, India | Tying the Safaa: Chirag Patel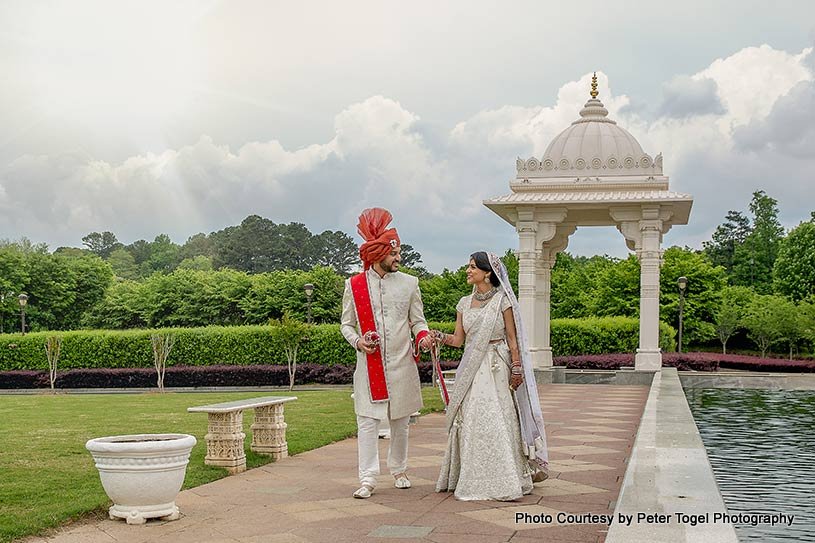 Q1: Tell us about your wedding! What was the inspiration behind your day? Did you have a specific theme, style or color palette? Did you incorporate any cultural or religious traditions in any part of your day? The venue is at BAPS Shri Swaminarayan Mandir in Atlanta. The place holds a very special place for me. This beautiful temple assembled like a 3-D puzzle was built in 17 months with 1.3 million volunteer hours. As one of the volunteers, I took part in smoothing out the intricate stone carvings. Because of this venue, the ceremony will have both traditional and religious elements in addition to live instrumental classical music.
Q2: Let's talk wedding decor. How did you decorate your space for the ceremony and the reception? Was any part of the decor DIY? I like designs that are simple, elegant, and timeless. When Purnimaben presented various options for the mandap, I was instantly drawn to one style that checked off all the boxes. I selected traditional colors – red and white flowers with red and gold backdrop.
Q3: What were the florals like in your wedding? Did you use flowers in any of your design elements like the bridal bouquets, centerpieces or ceremony backdrop? Did they play an important part in the overall style of your wedding? The mandap has a bed of flowers all around the top and bouquets down the sides of the aisle. Flowers are incorporated throughout the ceremony as well, starting with my niece as the flower girl! The bride and groom traditionally wear a flower garland around their neck and flowers are thrown when the bride and groom perform mangal feras around the fire.
Q4: Did you personalize the day in any way (food trucks, guest entertainment etc.)? What were some of your favorite parts of your wedding? I enjoyed personalizing our wedding cake, including selecting unique flavors for each tier – rose, honey, and pistachio. The guest autograph frame was also fun to design. I wanted to have a rustic piece of artwork to hang in our home that also showcases our wedding.
Q5: Let's talk fashion. How did you choose your wedding day look? How did the groom? Describe both looks in detail. Just like the mandap, I prefer a very simple and elegant style for the wedding outfit. I wanted something timeless and nothing too flashy. I selected the first dress I saw and was fortunate to be able to customize it the way I liked. The outfit has light gold and subtle silver embroidery with pearl embellishments. After I was done with my look, Jeegar selected his attire to complement mine. His pagdi is going to be hand wrapped around his head, similar to how it was traditionally done years ago. We both will be wearing Indian shoes (juttis) to compliment each other as well as complete the traditional Indian look.
Q6: How did you meet? Tell us about the proposal. (The version of the story you would want to possibly have published.) Our families facilitated in setting us up. Jeegar and I live in DC so we met up shortly after exchanging a few emails, texts, and phone calls. He seemed so knowledgeable about the most random things and always made me laugh. On our first date, he arrived early with The Economist in hand. (I appreciate a guy who finds time to read his news from somewhat reliable sources). The Proposal – Jeegar and I love hiking. When we travel, Jeegar always manages to find a trail to explore. With that, Jeegar thought of the perfect location to propose – somewhere local where we both met while doing what we both enjoy – hiking the trails around Teddy Roosevelt Island. However, the weather was not in our favor. Jeegar's alternative plan was to propose on top of his favorite building, The Kennedy Center, overlooking Teddy Roosevelt Island. On our way to The Kennedy Center, a science march was blocking the roads by the Trump International Hotel. With time to kill, we hung out at the hotel lobby. We headed over once things cleared and Jeegar received his queue from the photographer who was stationed on the roof terrace. I was under the impression that Jeegar wanted to see the current Bhudda exhibition. However, he took me towards the opposite direction onto the rooftop terrace, spotted the photographer, got on one knee, and proposed. True to form, Jeegar's speech was both sincere and hilarious.
Q7: What was the most anticipated or special moment of your wedding day? I am anticipating our first look. I think it will be such an interesting and sweet moment to reflect back on. I always enjoy watching this moment in previous weddings that I have attended. I also want to see my niece, who is the flower girl, awe all the guests in attendance. I am most nervous about my entrance – going down the aisle on a dholi held up by my uncles!
Q8: Do you have any wedding planning or marriage advice that you'd like to share with other couples planning their day? Work together during the wedding planning process. As much as this is the bride's big day, you want it to be a positive experience for