Vijayagopalan & Tebbe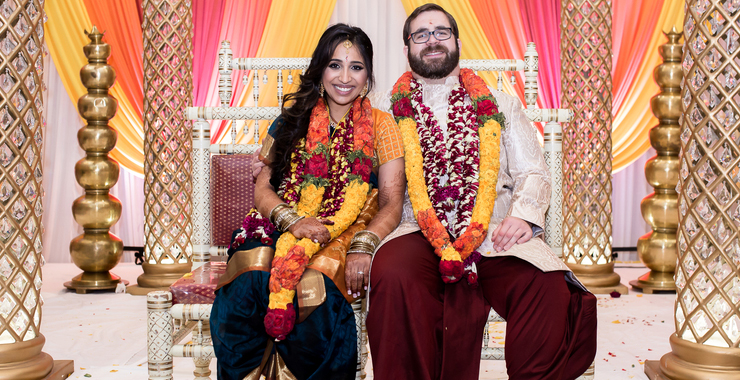 Sangeeta and Daniel get two have two weddings. How lucky is that? Since Sangeeta is Hindu and Daniel is Catholic, they decided to really unite their love and their families by having two ceremonies, to honor each culture. Planning this wedding took a lot of effort both near and far, as Daniel and Sangeeta are currently living in Texas and Michigan respectively, but were planning their Hindu Wedding for their hometown of Charlotte, NC.
Sangeeta hired some of the best vendors in town to ensure her wedding went off without a hitch. From the food to the flowers, nothing was cut short. There were several wardrobe changes, lots of times to eat, tons of family and friends and it was an all around wonderful time.
Q: Tell us about your wedding! What was the inspiration behind your day? Did you have a specific theme, style or color palette? Did you incorporate any cultural or religious traditions in any part of your day?
A: We wanted to capture both the traditional south indian wedding with modern design.
Q: Let's talk wedding decor. How did you decorate your space for the ceremony and the reception? Was any part of the decor DIY?
A: Accent colors were salmon and navy
Q: What were the florals like in your wedding? Did you use flowers in any of your design elements like the bridal bouquets, centerpieces or ceremony backdrop? Did they play an important part in the overall style of your wedding?
A: We used flowers on the estate tables for family – we wanted to incorporate fall colors along with some accents of pink/salmon to go with the theme of the wedding.
Q: Did you personalize the day in any way (food trucks, guest entertainment etc.)? What were some of your favorite parts of your wedding?
A: Favorite parts of the wedding were the swing ceremony and exchange of garlands. Favorite parts of the wedding: the food and cake 🙂 The bride and groom are both foodies so wanted to make sure that was one of the best parts of the ceremony.
Q: Let's talk fashion. How did you choose your wedding day look? How did the groom? Describe both looks in detail.
A: With 5 dresses – it's hard to choose a favorite but i wanted to wear a different type of indian wedding dress for each part of the ceremony. First two looks were very traditional – from south india. For bridal party pictures – that looks was more elegant. Cocktail hour dress: Theme of the night was flowers and pastel colors – this dress incorporate both of my wedding colors. Reception dress: Elegant but simple pale pink dress. Daniel's dresses were both traditional and then a nice grey suit paired with a pale pink tie and pocket square.
Q: How did you meet? Tell us about the proposal.
A: Daniel and I met in graduate school in Flagstaff, AZ and started dating 6 months after we met. We have been long distance since July 2012 but our love has grown fonder through the distance. The proposal was a day long event of pampering Sangeeta with a manicure/pedicure, her favorite cupcakes, a new dress etc. with it ending in an intimate proposal from daniel down on one knee (in the dark) :). The night ended with a fun celebration at a local bar in Michigan.
Q: What was the most anticipated or special moment of your wedding day?
A: The time on the stage where we were officially announced as husband and wife.
Q: Do you have any wedding planning or marriage advice that you'd like to share with other couples planning their day?
A: none yet – haven't been married long enough to give any good advice 🙂
Photographer: Back Seat Photography Cinema and Video: By Design Films Cake Designer: Cheesecake Etc. Photo Booth Equipment: Shutterbooth Beauty: Charlotte Henna Mehndi Caterer: The Blue Taj DJ: Masala DJs Design and Decor: Mandap World Hair Stylist: Hair by Anna Pham Makeup Artist: Sweet Southern Glam Reception Venue: Hilton Charlotte University Place