The Emotional Custom of Bidaai In Indian Marriages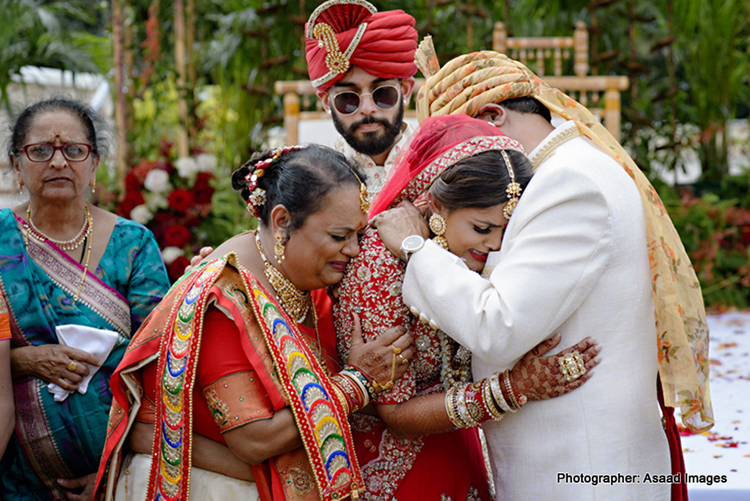 Weddings in India is just not limited to Shaadi, receptions, and parties. It's a sacred occasion of happiness, excitement, and emotions. The week-long gatherings, hundreds of family and friends and preparations of back-to-back ceremonies…Everything about the marriage makes it way special and stand out!
So starting from the wedding itself, when it goes through the Mehendi ceremony, Haldi ceremony and the wedding itself, there comes a time when the bride is set to go from her parents' home. This is the time when all the family and her friends gather up at one place for her to see off. The newlyweds go out of the house and take blessings from all the elder people before leaving.
Bidaai is the farewell of the bride from her home. As she is about to begin a new chapter of her life along with her newlywed husband, she receives the gift of honor from her parents and loved ones. The Bidaai time is undoubtedly one of the most sentimental times where no eyes are left untreated while the bride herself is overwhelmed with emotions.
The feeling of separation from her own house, her parents, siblings, and relatives swell up the eyes of everyone present in the Bidaai. The Bidaai is also a mark of successful completion of the wedding ceremony as the newlyweds are ready to go to their home together. This also marks the beginning of the bride's life as the Commander of her new home, who is responsible for caretaking and living of all the people belonging there.
Women, after marriage, are proudly welcomed as the Goddess Lakshmi at their new home. Her husband, who is responsible for her take care and security takes the pledge in front of the bride's parents that she'll be happy and safe with him. And finally, the father and brother of the bride hold up the doli of the Dulhan while sets her way to her Sasural.
Weddings in India
Shaadi
receptions
Mehendi ceremony
Haldi ceremony
Bidaai Wedding Ritual
wedding ceremony
parties
Goddess Lakshmi
Dulhan