Bhumi weds Nikhil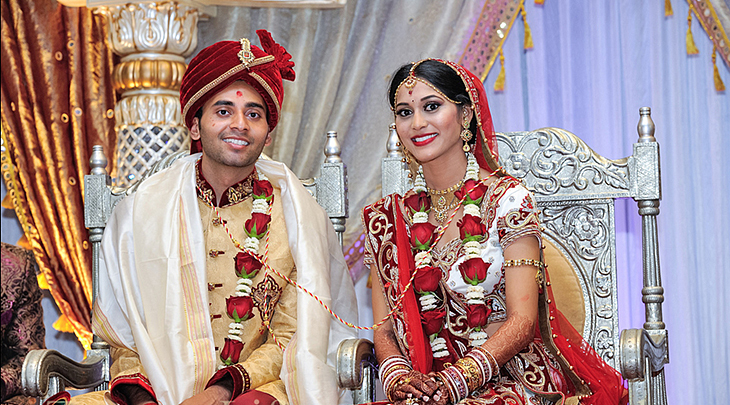 Bhumi has known Nikhil since she was nine. Not then, or all throughout college when they both studied on the same campus, did she believe she would marry him. It was when their families suggested the alliance that both Bhumi and Nikhil decided to focus their attention on getting to know one another better. The more they found out, the more convinced they were that no one was more perfect. And on one special occasion, Nikhil orchestrated a little treasure hunt – the treasure being a diamond ring and wedding proposal. Now who could refuse that!
A year of preparation enabled the families to manage all arrangements. With no professionals involved, the wedding was entirely a reflection of the taste and values of the families. A garba was held a day prior to the wedding. Traditional colors such as yellow, green, red and gold were used in the floral decorations. A large statue of Radha and Krishna were placed in the center, with flowers and a rangoli arranged around them. In striking contrast, the dining area took on various shades of peacock, all of which were brought out in the linens used.
A morning wedding followed the next day. Held at the local temple, the location was of special significance. This was the temple that both Nikhil and Bhumi, and the families, frequented for many years. White sheers with accents of maroon were hung all across the ceiling and the sides. Floral arrangements on the pillars, aisle and mandap brought the temple to life. Traditional wedding music played during the entire ceremony, as a live band supported the mood perfectly. Nikhil arrived for the wedding in a horse carriage, and whisked his wife away in her wedding gift, a Porsche.
The auditorium that was chosen for the reception resembled a dome. The sheer white on the top reflected the colors of the strobes perfectly. White, pink, and gold shone through in the flowers and candles, and a gobo monogram of the couple's initials beamed throughout on the ceiling drapes. Special dances and skits tied the event together perfectly.
Nightmares, a wedding disaster, and nerves – nothing could come in the way of making this a perfect wedding. It is clear that not just the ceremony, but also the life of this couple is set for perfection. Bhumi firmly believes that you can never stop dating, and never let the magic fizzle. More importantly, she insists that you cannot go to bed angry with one another. For Nikhil, meeting this respiratory therapist clearly took his breath away!
BANQUET HALLS Umiya Mataji Mandir 478-476-9440   BEAUTICIANS /COSMETICIAN   IShadow Studios 678-464- 5983     DECORATOR Weddings In Style 678-907-6547   DISC JOCKEY DJ Sketch 678-665-1962  CAKE Artisan Cakes By Julie 678-308-1577 GIFT ARTICLES XHD Invites 404-890-0309 PHOTOGRAPHER Zamana Photo & Videography 678-860-2921  RECEPTION SITES  Macon City Auditorium 478-751-9250 RENTAL SERVICES Event Drapery 404-597-4653  VIDEOGRAPHY  Zamana Photo & Videography 678-860-2921