Dhara and Vishal
Heaven is where marriage is created. The ideal marriage, however, is one where the couple is each other's best friend. This was the case for Dhara Patel, a future dentist, and Vishal Patel, a future doctor, who met at a charity gathering called The Big Event. They had both attended the same college at the University of Florida, where they became friends and discovered that they have many things in common with each other.
After five years of dating, Vishal proposed to Dhara on a tranquil Georgia beach. Dhara was delighted by the nice surprise and expressed her happiness at the chance to spend the rest of her life with her soulmate, her best friend.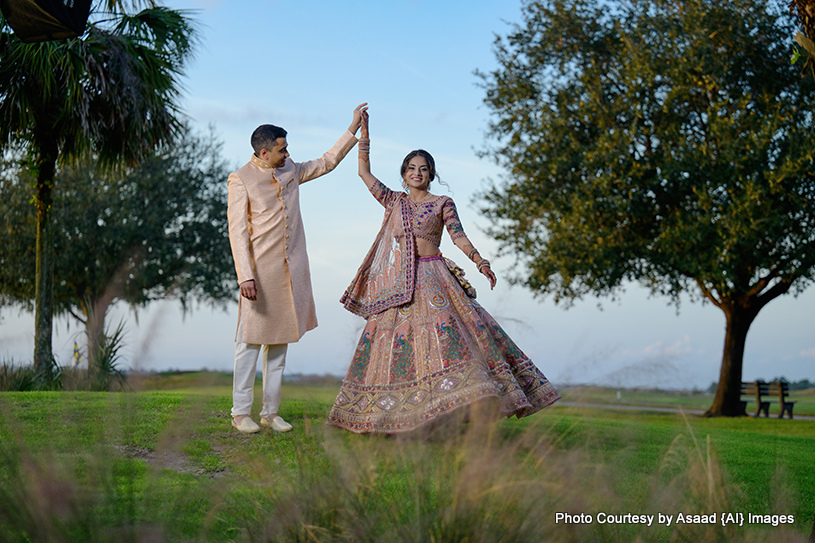 ---
BANQUET HALLS Omni Orlando Resort at Championsgate 407-238-6539 | BEAUTICIANS Michele Renee The Studio and Salon 813-531-7770  | CAKE Tru-Cakes 407-473-5849 | DECORATOR Utopian Event Florida 678-570-4443 | DISC JOCKEY Awaaz Entertainment 407-902-9639 | EVENT PLANNER Elite Dream Creations 407-733-2597 | MEHNDI Henna Allure 321-444-5911 | LIVE PAINTING Event Painting by Jamie 610-316-2113 | PHOTO BOOTH Bellamore Studio 407-534-0530  | PHOTOGRAPHER Asaad Images 407-221-3333 | PRIEST Acharya Ramesh Mehta 813-453-9334 | RENTAL SERVICES Coles Classic Cars LLC 407-963-9089 | CATERING Khasiyat Indian Restaurant 407-252-8756 Saffron Indian Cuisines407-674-8899 | VIDEOGRAPHY Riant Films 321-246-5839 
---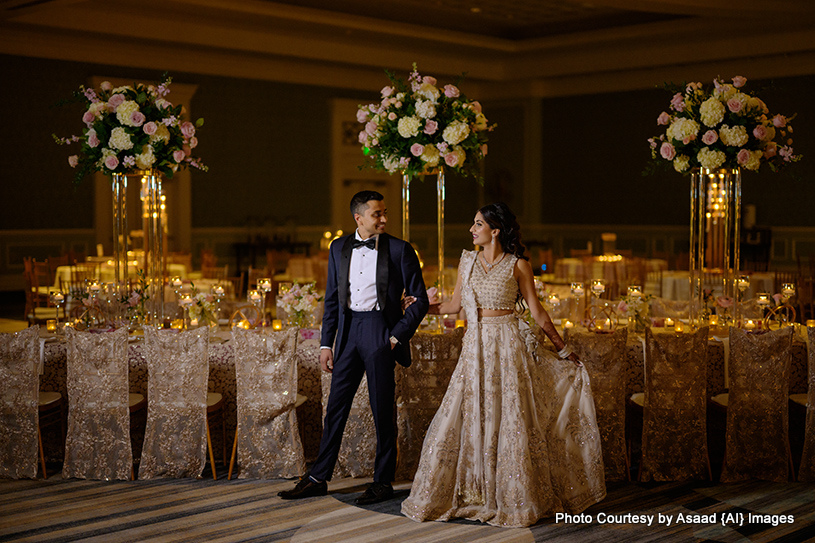 Planning for their nuptials started, and the couple worked with Elite Dream Creations, a wedding coordinator, which did an excellent job of organizing everything. They support hiring wedding planners because it lessens the stress of the occasion.
The "Big Event" was scheduled for November 26, 2022. The wedding and reception took place at the Omni Orlando Resort, in Florida. The Mehndi and Vidhi pre-wedding rituals were observed separately by the couple. Vishal held rituals at the resort, while Dhara held them at her home in Plant City.
The indoor wedding ceremony took place early in the morning. It was a straightforward, tasteful, and elegant ceremony. The background music, Garba, and the reception music, played by DJ Rahul Patel of Awaaz Entertainment, were perfect for the atmosphere and spirit of the occasion.
Indian, American, and Spanish music that was slow in tempo and romantic in mood was the ideal combination for the wedding. The groom arrived on a surrey bike that his friends were riding. The ladies entered the wedding site with LED glow sticks as the lads danced to the music. The remainder of the groom's party entered dancing as well.
The reception took place at night. Everyone enjoyed the music and danced through the evening. There were advice booths for both the bride and the groom. Each guest received a package of Indian sweets, giving a special touch to the celebration. All 400 guests witnessed a special occasion that was full of pleasure and elegance as it celebrated the union of these two soulmates.