Diana Weds Ananta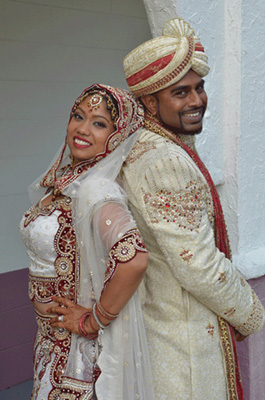 Weddings are always special for the couple who is about to begin a new life together. When families are woven into the wedding story, the magic and fun that occurs multiples. Two years after dating Diana, Ananta sought the blessings of her parents and let his family in on his plans for a grand proposal. In the presence of his whole family, Ananta went down on one knee and proposed in style. No girl could have turned him down, and certainly not one who loved him as much as Diana.
Though most of Ananta's family lives in New York and Diana's in Miami, the couple chose their hometown, Orlando, as the wedding venue. Both were keen on a temple wedding, which worked well not only for the couple, but also for the guests given its central location. With a puja performed by the groom and bride's families respectively, it was soon time for the all-important day.
The wedding was held in the afternoon. An intelligent choice of bright colors added to the cheerful atmosphere and enhanced its beauty. The use of red, orange, green, and pink with splashes of blue made for an exquisite collage, and drapes, flowers and candles were used throughout to accentuate the bright colors. Elephant statues adorned the main aisle, as well as the central area. Simple yet elegant programs in maroon were handed to guests as they arrived.
The traditional beat of a drum signalled the entry of the groom and his family. With the use of a fog machine, the groom made a grand entrance in his SUV lending the occasion a surreal touch. One of the bride's cousins played a selected piece on the violin to set the mood before the bride made her appearance. The wedding was soon underway, and after the rituals, a dance performance by the bride's niece and some fireworks brought the spectacular explosion of color and life to a close.
The couple chose to host a reception in Ananta's home state. The newly married couple and bridal party arrived at the reception venue in a Hummer limousine. The ballroom at the Floral Terrace in New York came to life with pale pink, white and yellow flowers lit up with candles and gold pedestals. Glistening lights and chandeliers reflected the upbeat mood, while cocktails, food and a huge wedding cake catered to the appetite of the guests. The DJ belted out a mix of songs of various genres including Bollywood, hip hop, and reggae.
According to the couple, communication and compromise both contribute to a happy marriage. Considering that apart from a little speech that was overlooked things worked perfectly at this wedding, so you should certainly want to follow what they say!
Photos Courtesy:
Fine Art Productions
888-494-7909
www.fineartproductions.net
BANQUET HALLS Floral Terrance 516-488-2626 BEAUTICIANS/COSMETICIAN Ambro Style 347-415-6255 BOUTIQUES Brides By Demetrios 407-869-5277 demetriosbride.com CAKE Buttercooky Bakery 516-354-3831 Luma Bridal 407-536-8121 Party Flavors Custom Cakes 407-578-2082 orlandocustomcakes.com DHOL PLAYER TNT Sweet Tassa 407- 285-5002 DISC JOCKEY DJ Derick 917-847-6204 FLORIST  Floral Terrance 516-488-2626 Jay W. Becker Florist 516-437-0307 PHOTOGRAPHER Fine Art Productions 732-662-5555 PRIEST/WORSHIP SERVICES Sahadeo Hariprasad Panditsahadeo@gmail.com RENTAL SERVICES Rentaland Tents & Events 407-851-7368 VIDEOGRAPHY  Fine Art Productions 732-662-5555