Farjana and Yousuf
Yousuf and Farjana connected through mutual friends in 2016 and they began dating in 2017. Four years later, Yousuf stunned Farjana by popping the question to her in front of both of their families and friends.
So Farjana Rahman Pireya Malik, a human resources professional from Bangladesh, and Yousuf Amin Malik, an electrical engineer from Pakistan, became engaged. Their chemistry has a distinctive quality, and with their marriage they were able to celebrate the customs and cultures of one another's nations.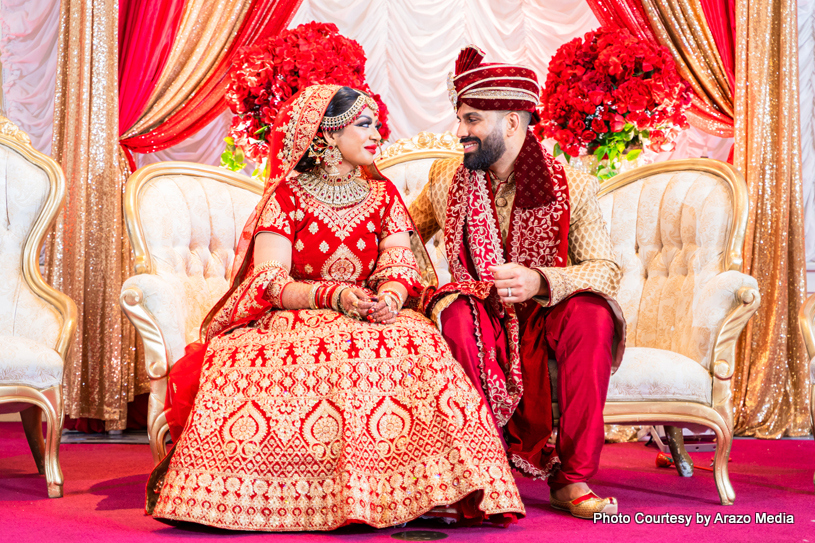 ---
BANQUET HALLS Cherry Blossom Banquet Hall 703-444-0080 | Friends Meeting Of Washington 202-483-3310 | The Renaissance 804-649-3373 | BEAUTICIANS Makeup By Afshan Instagram: @makeupbyafshan | Makeup by Shazia 571-525-8784 | CAKE Cake Man's Bakery 804-591-7850 | Ferhana Khan 571-279-9036 | CATERING Al-Medinah Restaurant 804-562-9470 | FLORIST Americas beautiful florist and decor 301-251-0500 | MEHNDI
Madiha 202-733-8292 | MUSICIAN DJ Hercules Entertainment 888-435-4372 | PHOTOGRAPHER/VIDEOGRAPHY Arazo Studios 703-707-2519 | PRIEST Imam Abdur Rafa 703-433-1325
---
For a year, Farjana and Yousuf observed the pre- and post-wedding customs. According to Bangladeshi/Pakistani custom, the Islamic wedding ceremony, or Nikkah, is performed at the bride's hometown. Since Farjana is a native of Washington, D.C., the couple had their Nikkah on May 16, 2021, at a mosque nearby the district. It was a religious event with 100 attendees.
The couple observed Gaye Holud, or Haldi, on May 29, 2022, in accordance with Bangladeshi tradition. With the help of Yousuf and his groomsmen, Farjana and her bridesmaids, and the other guests, the event featured vibrant colors, delectable Bengali food, a bangle bar, cocktails, dancing, and endless fun. The pair received a beauty treatment using turmeric paste.
The wedding and reception took place on June 12, 2022. The Renaissance at Richmond served as the location. Red and gold were the dominant colors, with hints of coral, peach, and beige. Background music for the ceremonies included a mix of Bangla, Hindi, and English hits. "Mere Sohneya," a song in Hindi, played as Yousuf entered. The Bangla song "Jhoom" played when the groomsmen and bridesmaids arrived. Farjana and her father entered to the tune of "O Mon," a Bangla ballad.
The celebration also included a well planned event that showcased the best of both nations. The best performance was the couple's dance to a popular Bangla song. In addition to savoring the greatest dishes from both nations, each of the 200 guests received a chocolate bar wrapped in red foil with the words "a sweet finale to our new beginning" written lovingly on it.
That sums up Farjana and Yousuf's love tale as they nostalgically recall the day of their new beginning.