Krishna and Amish
Krishna
, a Florida family nurse practitioner, and Amish, a California hotelier, married in Florida in a once-in-a-lifetime wedding that their guests will never forget. They met during a layover and quickly knew they had discovered their life partner. After an impromptu lunch in Prefumo Canyon, Amish proposed to
Krishna
, who happily accepted.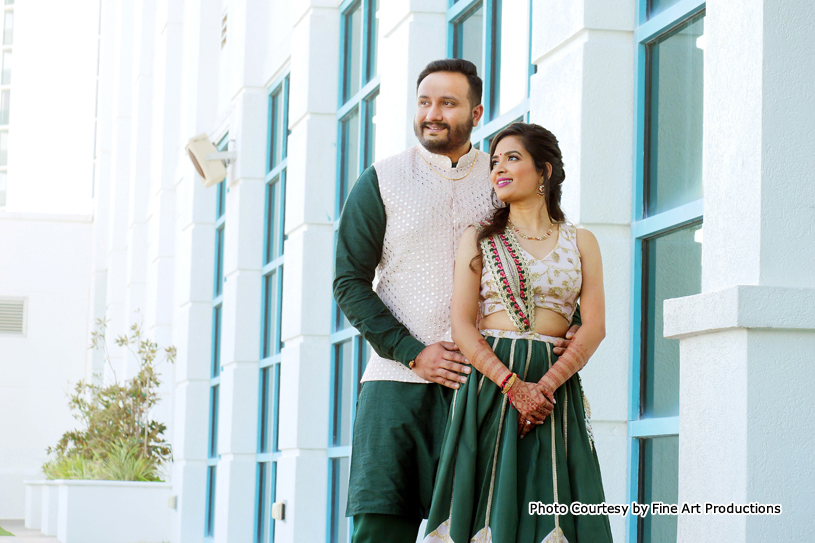 ---
BANQUET HALLS Hilton Daytona Beach Oceanfront 386-954-8007 | BEAUTICIANS-COSMETICIAN Beauty By Ami 407-257-8646 | DECORATOR Abhishek Decorators 732-535-4139 | DISC JOCKEY JP Entertainment 732-903-JPDJ | EVENT PLANNER Elite Dream Creations 407-733-2597 |  PHOTOGRAPHER/VIDEOGRAPHY Fine Art Productions 407-979-4749 | PRIEST Mahesh Gor 321-297-6167 | RESTAURANT/CATERING Mast Masala Caterers 407-816-6000 | WEDDING SERVICES Universal Wedding Cards 91 141 236 1591
---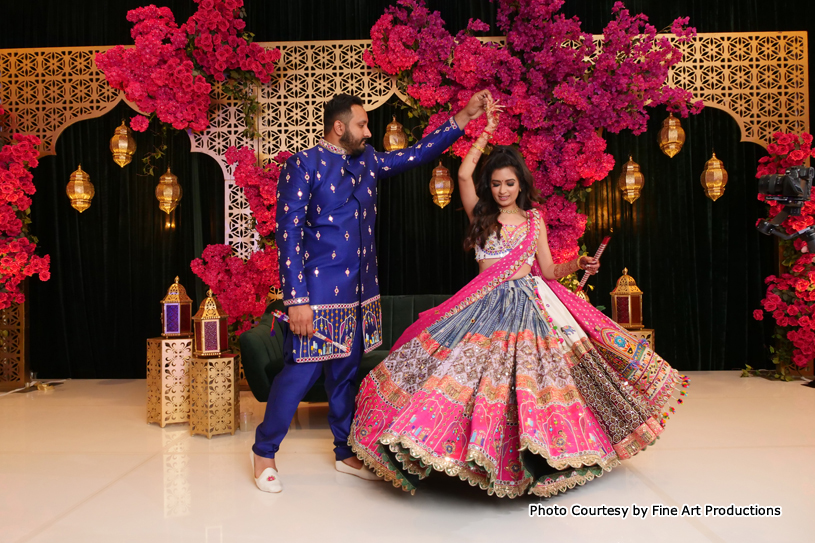 They married in Florida because Krishna's family is from Daytona Beach. Also, Amish's mother's family is from Florida. Elite Dream Creations, a full-service wedding planner, was recruited because a large group of 800 guests was expected at Hilton Daytona Beach Oceanfront Resort.
Indian Havelis' elaborate façade inspired the wedding's decor, which included staggered stone buildings that recalled medieval mysticism. The bride, groom, and their closest family members sat in crystal seats of various kinds on a lofty mandap.
Hindu weddings have multiple ceremonies, and handcrafted décor set the mood for each. The bride's lehenga had orange, hot pink, and green curtains and ornaments for the Mehandi ceremony. Since music is so important in weddings, multiple Hindi, English, and Punjabi songs were played concurrently at the groom's, bride's, and other main ceremonies.The garba event and wedding day had live singers and live band to add to the overall ambience of the event.
For the same reason, Grashanti, Garba, the Havan Kund, and the dining and visiting rooms required specially engineered decorative structures. Since the wedding was held early in the day, the lighting was natural and warm with a tint of gold, and votive lights were placed throughout the room to create a lucky environment. Arches and banisters covered with flowers and lighting gave the space a dreamy atmosphere. Sleek, attractive, and mobile food carts were installed.
CO2 smoke fog gun were used to cool guests in the Florida heat. As the photographer was Amish, photo sessions were hilarious and confusing. Guests partied until 4:30 AM, long after the main events ended.
The photographer's and guests' mobile devices captured the memorable elegant wedding.