Kruti and Jenil
Jenil Jariwala relocated to Chicago in order to look for housing. He had no idea that the new city would be where he would meet his true love. He found temporary refuge in the home of Kruti Mehta's parents and a long-term residence in Kruti's heart. Following their meeting and friendship, they started dating in 2018. After three years, they made the decision to get married with the blessing of their parents. In April 2021, Jenil proposed to Kruti for providing her with that unique feeling. The couple chose a "destination wedding" and set March 25, 2022, as the wedding date. In contrast to Jenil, who had the majority of his relatives in Surat, Gujarat, Kruti was born and raised in Chicago. As a result, the Hilton Clearwater Beach Resort in Florida was chosen as the location.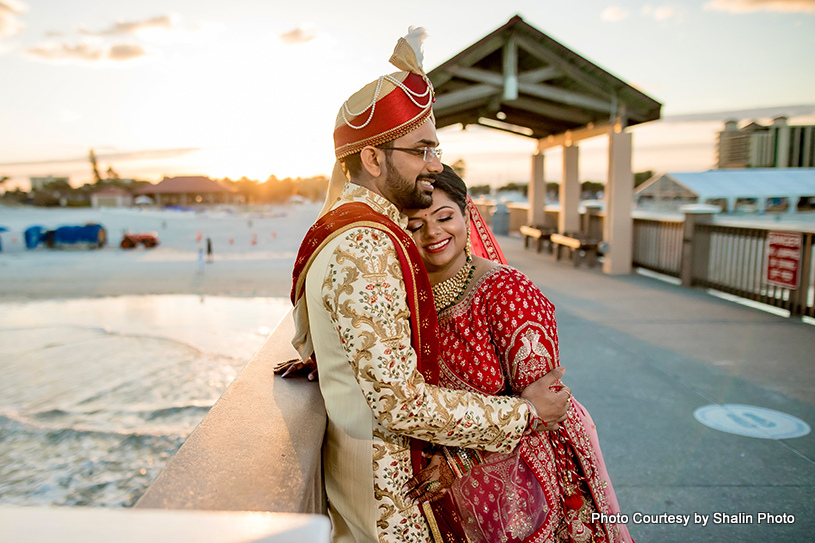 ---
BANQUET HALLS Hilton Clearwater Beach Resort 727-298-1494 | BEAUTICIANS Michele Renee The Studio and Salon 813-531-7770 | CAKE The Cake Girl 813-360-0909 | CATERING Khasiyat Indian Restaurant 407-252-8756 | DECORATOR Maharani Designs 813-569-9052 | DISC JOCKEY Dudha Productions 727-418-8498 | EVENT PLANNER Apsara Events 727-687-8185 | MEHNDI Unnati Shah 847-301-4124 | PHOTOGRAPHER Celebrations Of Tampa Bay 813-657-2238 | VIDEOGRAPHY Shalin Photo 847-371-1325 | PRIEST Acharya Ramesh Mehta 813-453-9334
---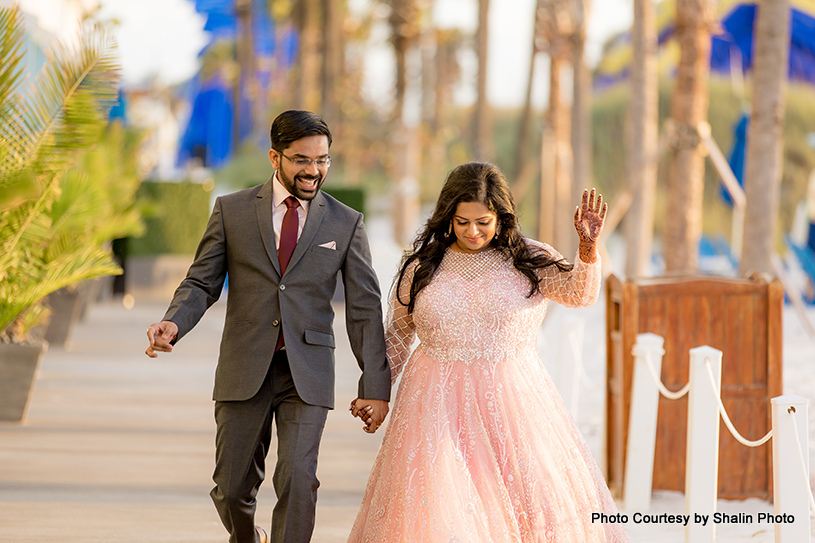 Kruti and Jenil celebrated the pre-wedding customs of mehndi, grah shanti, and pithi in their respective homes in Schaumburg and Port Richey, respectively. Outdoor wedding ceremonies were held on North Beach, also known as Clearwater Beach. It was decorated with welcome bags, chocolate-filled organza bags, flower-adorned seats with custom-made mason jars, a wooden boardwalk, and a Mandap with hanging white wisteria and colorful poles with flowers and greenery. They did not have the westernized idea of bridesmaids and groomsmen because they were deeply rooted in traditional Indian culture. Instead, everyone shared equally in the festivities. In a blue Mercedes convertible, Jenil arrived. With the pehlu pehlu song for pheras, ullam paadum (from 2 states) for the mangal sutra ritual, shubharambh (from Kai Po Che) for the groom entry, and raatan lambiyaan (from Sher Shah) for the bride entry, the wedding morning music was the ideal blend of Bollywood dance music and Garba. On the Sandpiper Terrace, there was a reception.
Green, white, gold, and rose gold served as the color scheme for the rustic and simple décor. The magic was generated with a gold and white couch with a gold hexagon background, small tables with centerpieces of lanterns and candles, and fairy lights. With beautiful music playing, both parents entered the room. The pair danced as a couple to Tyler Shaw's With You. From evening to dawn, all 100 guests had fun. The couple and their guests truly liked the unobtrusive and traditional ceremony.