Life is a Beach – Shailee Marries Vivek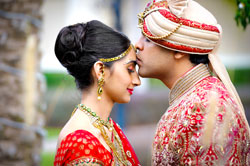 There are several moments in our life that are simply priceless, memories on which we look back fondly, and stories that we enjoy telling over and over. While birthdays, friendships and holidays are treasured, what we never let go of is the magic of our own wedding. Beginning with courtship, continuing all the way to the proposal and wedding planning, and finally ending with the moment that is lost all too soon, love and marriage make for an experience that moves not just those involved, but also everyone in the vicinity of the happy couple.
Shailee and Vivek Patel, both fourth year students of medicine at the University of Miami, knew one another's siblings for a while, but did not meet until a fateful cultural convention held in 2003. They were in touch through messages and emails and completed their undergraduate degree together at the University of Miami, after which they both went to the Miller School of Medicine. In 2010,Vivek decided to propose. Mindful that both held their respective families in the highest regard, Vivek decided to include them and invited them to a beach spot at Key Biscayne. Etching out a wedding proposal in the sand with Shailee's favorite color teal, Vivek got down on one knee with the entire family hidden behind keeping the scene in full view. Shailee had no reason to refuse.
Diligent planning and ample support ensured all details were taken care of well in advance. A wedding planner was the ideal resource for this couple to ensure arrangements went on smoothly and remained on course. With help to find and secure vendors, arrange food tastings, and plan the events, wedding planning became easy to manage. While friends managed all logistics and parents were busy with details, Shailee and Vivekhad time to focus on their studies. A quick trip to India to shop for clothes and other items was also possible given the one and a half years between the engagement and wedding.
Although everyone felt plenty of time was available, the wedding arrived sooner than they expected. The first event was raas garba, which set to a mela or carnival A spectacular opening to the upcoming celebrations, everyone participated in full dress and with ample enthusiasm. Palmists, puppet shows, poster collage, and bangle bazaar were accompanied by music from the famous Rawal Brothers who performed live. Close friends of the couple performed a choreographed number with a surprise entry made by the groom. Entertainment not with standing, the guests had a roaring time with village foods served with a rustic feel. To blend in a little American essence, there was also cotton candy, snow cones and popcorn. The Orlando Marriott Lake Mary found itself transported to an Indian village as 500 guests enjoyed the festivities. The Marriott was ideal for its proximity to Shailee's home and for lodging arrangements for most of the wedding guests.
For the wedding, an elegant gold mandap was embellished using pastel colored roses, hydrangeas and Asiatic lilies. Draped with ivory and coral curtains, it made for an impressive arena with 6 pillars designed in the shape of a seashell. The aisle had circular mosaic tile holders for the bouquets, candles and dangling flowers.
The wedding reception was held at the Heron Bay Marriott in Parkland, which is where Vivek and his family reside. The theme for the reception was Miami Chic, and the golf course located on the premises made for a pictures que backdrop Weaving Miami nightlife with the use of decor, colors and lighting, Suhaag Gardens handled all the decorations and in corporately host of elements to complete the feel. Most importantly, they ensured an inclusive dessert bar to appease the dessert cravings Shailee and Vivek are known to have.
DJ Firoz Dudha kept the 450 attendees completely entertained, not just with his music, but also as Emcee. A photo frame on the stage saw a silhouette dance performed by Shailee and Vivek, after which the sheers dropped and the man and his new wife emerged. They then performed their first dance together to Starlight by Muse. The Miami Chic theme continued with a salsa performance by the couple followed with professionally trained dancers in the background.
Both Shailee and Vivek advise that you stay calm and not worry about the wedding arrangements since it will be verbefore you even realize. There is little time for enjoyment, and you should make the most of it. A pleasant wedding with happy memories will go a long way in strengthening the marriage. Although moments during the wedding will make you feel the world is coming apart and all will come to an end, those moments will seem trivial in retrospect.
Photos Courtesy:
Zamana Lifestyles
678-860-2921
www.zamanaphoto.com
WEDDING SITE Orlando Marriott Lake Mary 407-995-1100 PANDIT Maheshbhai Gor 321-297-6167 DANCE LESSONS A PARTY HALL 305-796-8782 PHOTOGRAPHY Zamana Lifestyles Photography 678-860-2921 MANDAP DECORATOR Suhaag Gardens 561-247-4298 HORSE – CARRIAGE High Horse Carriage Rides 386-334-4386 WEDDING DRESS Roop Kala +91-079-55614411 Roopkala.ahmedabad GARBA BAND Rawal Brothers 386-882-1462 RENTAL EQUIPMENT 352-217-0330 Videography Zamana Lifestyles Photography 678-860-2921 ShivPriya Events LLC 407-473-8852 Flowers Suhaag Gardens 561-247-4298 Ranjan Patel 321-947-9673Music DJ DJ Zahir 407-437-3300 Dudha Productions 727-418-8498 Catering BAPS Orlando 407-857-0091 Punjab – Fine Indian Cuisine 561 392 8000 Bombay Café 407-240-5151 Royal Sweets 813-977-6000