Love in a Coffee Shop Natalie Weds Debobroto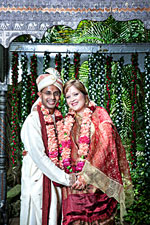 Four beautiful years of dating convinced Deb and Natalie to take their relationship to the next level. Deb proposed to his beloved along the shores of the Seine in Paris, slipping the ring onto her finger at one of the most romantic settings in the world.
They chose to get married in St. Petersburg near Tampa, Florida, since Natalie's mother lived there also because of great outdoor ambiance of the place.
Sunken Gardens was chosen as the wedding venue and the wedding was organized in two parts. In the morning, Natalie and Deb got married per Hindu traditions in a mandap that was set on a small stage under a canopy of one hundred year old oak trees.
The second part of the wedding was the civil ceremony planned in Irish style in honor of Natalie's ancestry, infused with Irish flavors in the form of Celtic hand fasting ceremony and Irish blessing.
The wedding program detailed various aspects of Hindu weddings and Irish traditions for the guests. Music was one of the highlights of the ceremony. The wedding was a beautiful union of two completely different cultures.
Although the wedding turned out to be perfect, it was not without some high stress moments.
Natalie and Deb urge couples to plan ahead and hire a coordinator for the wedding day. They ask couples to not let blur of the ceremony distract them from realizing that they are now tied together in a sacred bond, one that lasts forever.
Photos Courtesy:
Pure Emotions Photography
336-782-7150
www.pureemotionsphotography.com
Ceremony Site Sunken Gardens 727-892-5715 PHOTOGRAPHY  Pure Emotions Photography 336-782-7150 MANADP DECORATOR P.D Patel 813-787-9651 pdpatel15@yahoo.com MehndiMunira's Mehndi 813-403-8373 CATERING Catering by the Family, Inc. 813-875-2000  Music DJ Dudha Productions 727-418-8498