Mariah and Gautam
Miami holds a special place in the hearts of Gautam Muthusamy and Mariah Lewis. Throughout their college years, the couple had been acquainted with each other via mutual friends, and spent many years as close friends before they started dating. During a chilly walk after six years of dating, Gautam proposed to Mariah. She responded "Yes," feeling both happy surprise and deep emotion. Soon after, the couple took off for Miami to celebrate their engagement.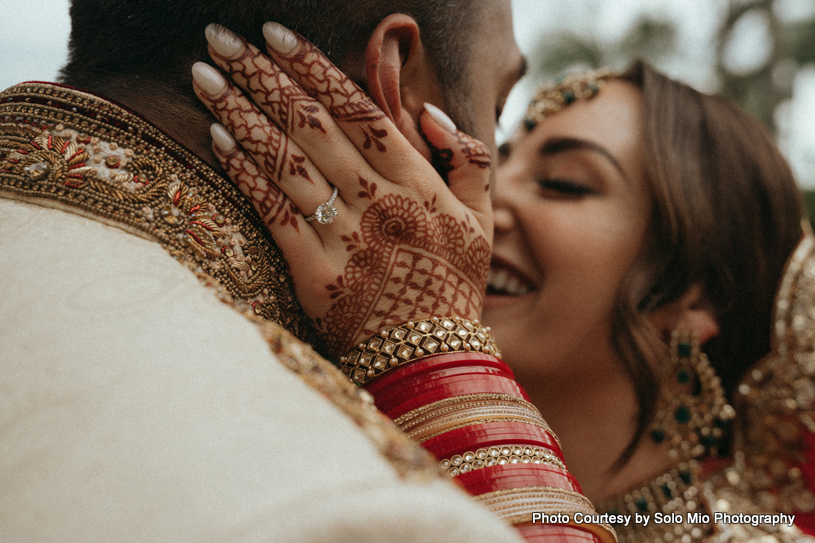 ---
BANQUET HALLS Biltmore Hotel Miami Coral Gables 305-445-8066 | BEAUTICIANS Dayana Denis 786-547-0444 | CAKE Cloud 9 bakery 786-250-4672 | CATERING Madras Catering + Event Production 561-249-7168 | DECORATOR Avant gardens 305-554-4300 | DISC JOCKEY Pavan Events 954-494-3567 | EVENT PLANNER EBJ Events 305-333-8878 | INVITATIONS Truly Engaging 763-786-9400 | MEHNDI The Henna Company Miami 786-368-2034 | PHOTOGRAPHER Solo Mio Photography 305-942-0978
---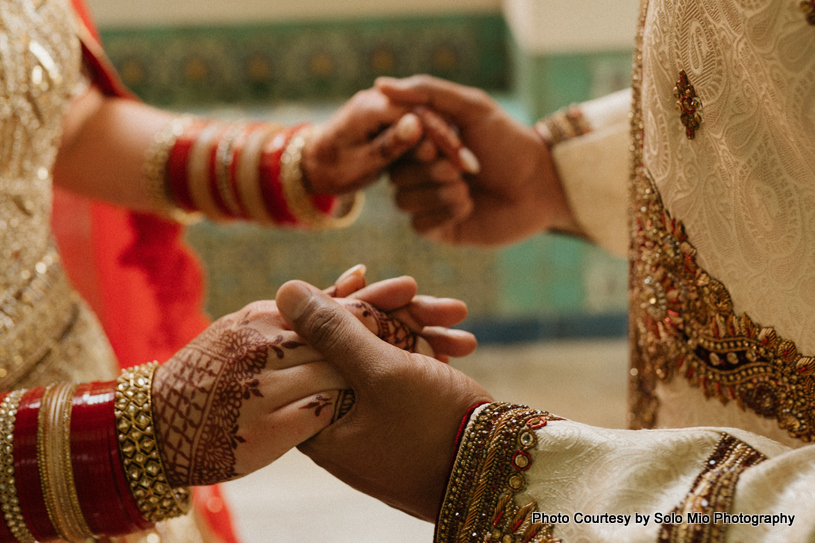 At their destination wedding on October 14, 2022, Miami was once again the setting. They decided to have their wedding and reception in the magnificent, historic, and luxurious Biltmore Hotel to escape the chilly weather at home in Michigan. They enjoyed Mehndi and Sangeet with close relatives and friends during the pre-wedding rituals. The beauty of the Biltmore Hotel and its tropical themes were enjoyed by all who attended. The wedding ceremonies were held outside at mid-day. Gautam arrived on a horse-drawn carriage. The music during the baraat included a dhol player and was a fusion of American, Latin, and Indian music. White and blush flowers and tropical vegetation were the main decorative elements of the reception. The groomsmen joined the bridesmaids on the dance floor after the entire bridal party had entered and started dancing together. Once more, there was a blend of Spanish, American, and Indian music. The couple danced to Ray LaMontagne's Hold You in My Arms. The groom and his mother danced to Tera Ungli Pakad Ke Chalaa by Unknown Boys, while the bride and her father danced to What a Wonderful World by Louis Armstrong. Mariah was in awe as she approached the end of the aisle and saw Gautam, her soul mate. She felt doubly happy because the wedding date also was her father's birthday, and all 125 guests wished him. The couple thoroughly enjoyed the wedding planning process, and they were thrilled to start their new life together as a married couple.