Nikita and Sunny
The strength of love ultimately triumphed over a set of misfortunes and accidents, and the wedding of Nikita and Sunny turned out to be a flawless and joyful occasion. An accident the couple experienced six months before their wedding day, during a pre-wedding photo shoot in Iceland, caused fractures and wounds, but they soon healed. Another obstacle occurred during the week of their wedding, when a catastrophic hurricane hit New Jersey. And even though the bridegroom, his family, and all of the guests traveled to the wedding destination by car from stormy New Jersey to Florida, everything went off without a hitch.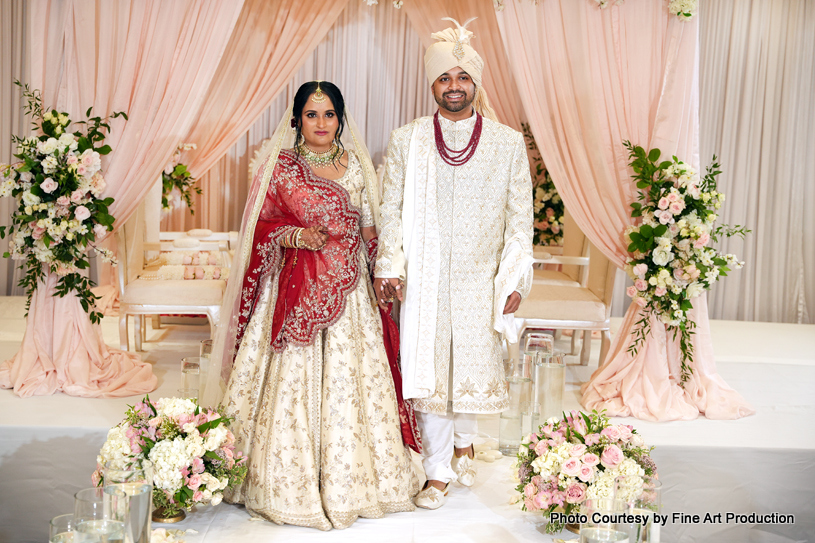 ---
BANQUET HALLS Hilton Melbourne 321-768-0200 | BEAUTICIANS Atlanta Makeup Artist 678-933-4802 | C Minerva s Looks 813-830-3323 | Henna Allure 321-444-5911 | CAKE Tru-Cakes 407-473-5849 | CATERING Flavor Of India 321-613-3715 | Saffron Indian Cuisines 407-674-8899 | DECORATOR Myar Decor Inc 404-268-7342 | DISC JOCKEY Awaaz Entertainment 407-902-9639 | HORSE CARRIAGE Misty Blue Acres407-433-1099 | MEHNDI Tejal Henna 407-415-7994 | PHOTO BOOTH Snapshot Orlando 407-818-9810 | PHOTOGRAPHER/VIDEOGRAPHY Fine Art Productions 407-979-4749 | PRIEST Bhavin Bhai 407-808-1819 | RENTAL SERVICES Central Florida Wedding Warehouse Inc. 407-791-6660 | Orlando Wedding And Party Rentals 407-595-1065 | WEDDING SERVICES Corsa HQ Exotic 305-401-1741 | Hoover Audio Visual Inc 321-749-4455
---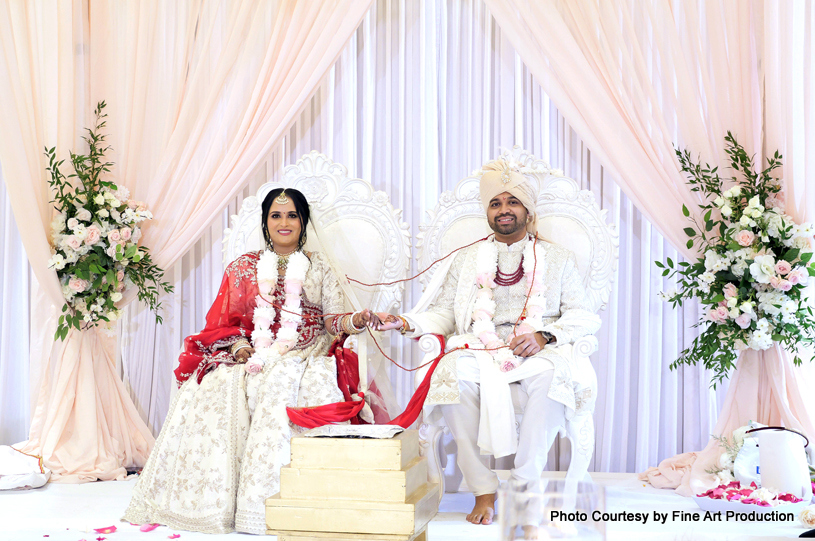 Sunny Shah and Nikita Patel met each other via the dating app Dil Mil. Since Sunny is from New Jersey and Nikita is from Florida, their romance was a long distance one. In Kona, Hawaii, in front of a setting sun at the beach, Sunny proposed to Nikita. When she noticed the words "Marry Me" and a heart written in the sand, Nikita was both shocked and moved. She happily accepted the proposal. November 12, 2022, was chosen as the wedding date. The best location was determined to be the Hilton Melbourne in Florida because it was close to Nikita's home. Both Nikita and Sunny applied their Mehndi at home during the pre-wedding rituals, using a handmade backdrop and varied colors. As Sunny's Pithi was postponed due to the hurricane, Nikita had her Pithi at home. The Garba had a hip vibe. The indoor ceremony was held in the morning. At the entrance was a Ganapati idol. A pink mandap and pastel-colored floral border and ribbons complemented the pink color scheme. The bridegroom and his sister arrived in a horse-drawn carriage, and Nikita arrived with a flower Chaddar held by her four maternal uncles. There was dancing and happiness all around as the DJ spun cheerful, exuberant music. The groom's family was welcomed by the bride's side. The reception featured a starry theme with LED pillars, glass globes, and flowers. Special songs were performed during the arrival of the bride and groom, their relatives, bridesmaids, and groomsmen. Everyone participated in dancing, watching the shows, and dining on the delectable cuisine. All 350 guests enjoyed the wedding and reception despite the earlier mishaps and disasters.