Shivon's Wedding Story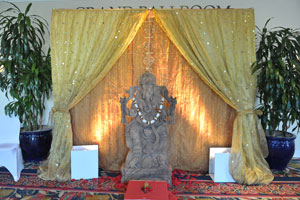 Proposal Amit planned a surprise trip to Lake Tahoe, NV. He chose Lake Tahoe because I had never seen snow. He never told me where we were going – just that it would be cold and to pack accordingly. Meanwhile, he was secretly planning a fabulous surprise and I had no idea. The day of the proposal, we went up Heavenly Mountain and of course, it started to snow like crazy. I was thrilled and figured that was the highlight of my trip, but there was more to come. At dinner, we had a private table overlooking Lake Tahoe and after dinner, the waiter brought out a huge cheesecake (my favorite) on which it was written, "Shivon, will you marry me?" I was so surprised by the cake that I never noticed the mint green box Amit had placed in front of me … and I was speechless by the gorgeous ring inside.
Planning
I definitely have to admit that I had absolutely NO idea what I was getting myself into when our wedding planning began. There are so many decisions to make and things to take care of … there were definitely moments when I felt completely overwhelmed. We began planning our wedding almost two years earlier because I was in law school in another city, and it was difficult to find time to do anything. As I quickly realized, it was a good thing we began planning early because all the good venues and vendors get booked very quickly.
We decided to pick our date first and then begin the search for the perfect venue. I wanted something different and new and the moment we saw the Marriott, I knew it was the perfect spot. Not only was the hotel gorgeous and new on the scene for Indian events in Orlando, but the event coordinator, Hameant Raghubir, really understood the unique needs necessary for a successful Indian wedding. After picking the venue, things began to fall into place. Going to India for shopping was not an option because of school, and we decided to make a trip to New Jersey instead. The trip turned out to be a huge success – I was able to get all of my outfits as well as book my makeup artist, photographer, and DJ/live band.
As for picking out your clothing, I think it is important to have an idea of what style and color(s) you want, but also have an open mind – what you think will look great may actually turn out to not look so good. I have to say that picking out the decorations was one of the most stress-free and fun things I did. I had envisioned what I wanted each event to look like and Smita aunty and Remmal from Shangri-la really worked hard with me to bring my vision to life … the decorations could not have been more fabulous. The ballroom was completely transformed for each event and they truly made the image of what I wanted a reality.
Honeymoon
We went on a 2-week South american/Caribbean cruise.
Tips, advice and Dos and Do n't
Do make sure you delegate ALL responsibility to others a few days before the event and give all vendors information for contact people so you can relax, enjoy and be stress free. Do make sure you get enough rest… it is no fun being tired at your own wedding! Do give your DJ a playlist of songs, especially if you are having multiple events. Your guests will enjoy a variety of music, instead of hearing the same songs over and over. You also don't want the DJ playing songs you don't like. Do attend your cocktail party… it really allows you to finally mingle with family and friends!
Fine Art Productions 407-979-4749 Makeup artist: Susmita Patel (Studio Sush) 973-202-1717 Mehndi Artist: Tejal Patel 407-415-7994 Venue: Marriot Lake Mary 407-995-1100 Pandit: Mahesh Gor 407-699-5277 Flower: Ranjan (haars & car decoration) 407-438-6094 Cake: Sprinkles bakery 407-647-8044