The Magic Carpet Ride – Sabrina Weds Raj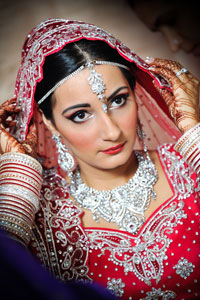 Who said a marriage cannot be all about fun and merriment? With your true love by your side, there is little to cause worry. Marriage does come with its own share of tense and memorable events, no matter how it is enjoyed. When the people are special, the wedding is certain to be one that cannot be forgotten.
friendship, Raj and Sabrina followed a most natural progression. With a magical proposal on New Year's Eve, Raj got down on one knee with a spectacular ring, and there was no way Sabrina could have said anything but a resounding yes.
Although the families had over a year to plan for the wedding, time flew by quickly. After all, there is never anything like enough time to plan and shop. A quick dash to India enabled Sabrina and her family to pick out clothes, jewelry and invitations. With the families handling details with regards to the venue and catering, they made the prudent decision of leaving matters related to decor to professionals.
Two country clubs in North Carolina were chosen for the wedding and reception, and they waited in readiness to welcome the 400 guests. Large open windows brought in the abundant sunshine and also revealed a view of the scenic outdoors. Flowers and runners added to the visual appeal, along with the colorful delight that the breakfast and lunch spreads offered. Program books that matched the logos on the runner gave a sense of cohesion to the overall look.
After a traditional Sikh wedding and the customary keertan, Raj and Sabrina were formally man and wife. After a hearty lunch, plans for the reception followed.
A DJ welcomed guests and kept them entertained with bhangra and the latest music. Luminescent colors brought in with the help of drapes, crystals, flowers and candles elevated the venue to look glamorous and tasteful. Coral, gold and purple were predominant colors, although various other shades danced off the lights and crystals merrily. A Hollywood backdrop and ice sculptures were standouts as far as attractions were concerned, while the trees that stood in welcome and the votive candles were widely appreciated. Speeches from closest family members tied the event together perfectly.
Planning a wedding is fun, but can be a test of nerves. Sabrina suggests that you take time off to do something completely unrelated to help give you a well-deserved break and keep you energized. She recommends enjoying a movie or drinks with friends. Although she braved several nightmares including rain on the wedding day and wardrobe malfunctions, she breezed through the event like the princess she truly was.
Such is the magic of your wedding. A cauldron of emotions churns in your stomach. While you cannot wait for the special day, you still feel time goes by too fast. However, nothing can match the dreamlike walk down the aisle or the ecstasy of finally becoming one with the prince you waited for all your life.
Photos Courtesy:
Zamana Photo & Videography
678-860-2921
www.zamanaphoto.com
VENUE Carolina Theatre 336-333-2605 Deep River Event Center 336-542-3797  Forest Oaks Country Club 336-674-0126 High Point CountryClub 336-889-0818  BEAUTICIANS/ COSMETICIAN Elaine Harrison Makeup Artistry 919-624-0437 CAKE Edible Artistry 336-889-7252 FLORIST Just Priceless 336-883-6249 PHOTOGRAPHER/VIDEOGRAPHER Zamana Photo & Videography 678-860-2921 RESTAURANT /CATERING Copper Restaurant 704-333-0063  RESTAURANT/CATERING Saffron Indian Cuisine 336-574-3300  WEDDING PLANNER Vida With Michelle 704-724-2091  WEDDING SERVICES Poonam Henna Art 336-510-8830 poonam.solanki.58@gmail.com