Working Towards A Successful Marriage Rihanna Weds Bhargava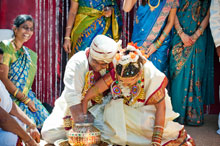 While you can never discount the fact that love is the best thing that can happen to anyone, it also takes a lot to keep it going strong. Knowing one another well and spending sufficient time- with each other does prepare you better for marriage.
Rihanna and Bhargava made the classic progression from friendship to love, and slowly from lovers to soul mates. They met in their freshmen year at the University of Miami and by spring semester of sophomore year, love had worked its magic. After a long seven years of courtship, Bhargava proposed Rihanna for marriage.
Planning began immediately with all arrangements taken care of by both families and friends of the bride and groom. The Naples Botanical Gardens took on a grand look on March 17. An exquisite tent was erected and decorated with gorgeous saris, delicate cushions, floral balls, crystal curtains and sheer drapes.
Wiser and now more experi-enced, Rihanna has priceless words of wisdom for those readying to take the plunge. She asserts the importance of giving the groom his due, and allowing him to participate with his ideas and suggestions. More importantly, Rihanna says that it is best to savor the moment slowly, or it will go by all too quickly. Stop to smell the roses, and look around, she says. While there are bound to be small snags, they are best ignored.
Photos Courtesy:
Fine Art Productions
732-662-5555
www.fineartproductions.net
CEREMONY AND RECEPTION SITE Naples Botanical Gardens 239-325-1936   PHOTOGRAPHY Sona Photography 407-694-6032 VIDEOGRAPHY Nima Films 813-885-5555 OFFICIAN Hindu Temple of Florida 813-962-6890 CATERING Tabla Bar and Grill 407-248-9400 MUSIC DJ Garib Enterprise 954-324-5571 Garibenterprise@gmail.com